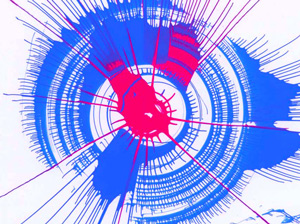 Image credit: Edward Lee; larger image
You can create an image like this by dripping paint onto a rapidly spinning turntable.

- The outward movement of the paint illustrates the centrifugal force.
- The slight curvature of the outward-moving lines illustrates the Coriolis force (the turntable was spinning clockwise).
- Learn about the Coriolis and centrifugal forces at HyperPhysics: Coriolis Force.
Try experiencing the Coriolis effect next time you ride on a merry-go-round, just like in this video from the University of Illinois at Champagne-Urbana.

- Read more about the video and also about humans in rotating systems at Spinning Brains, an article from NASA.
- If you don't have a merry-go-round nearby, you can still see the Coriolis effect through this simulation.
- For more, visit Bad Coriolis, from Pennsylvania State University.