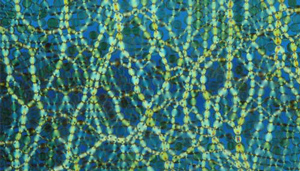 image credit: Jie Zhang/Duke University; image source; magnified view
-- These plastic discs, all on the same level surface, are squeezed top-to-bottom and allowed to expand right-to-left. They are backlit, and the light passes through two linear polarizers, one behind the discs and one in front, so the colors indicate the stresses inside the discs.
-- To learn more about this experiment, see the American Physical Society's Physical Review Focus article Shear Forms Force Chains. See this video to watch the experiment in action.
For more on birefringence and polarization, see the Davidson page Birefringence and the Hyperphysics page Birefringence.