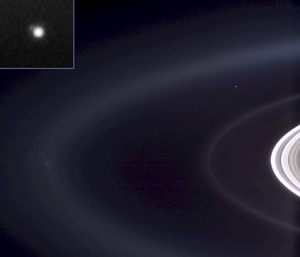 image credit: NASA/JPL/Space Science Institute; image source; larger image
For a different perspective on Earth and the moon, here is the view from Saturn as seen by the Cassini spacecraft.
-- Earth is the blue speck on the right side of the image above the center, and is shown with greater magnification in the inset.
-- To learn more about this image, see Pale Blue Orb.
Visit Secret Worlds, from Florida State University, for a slide show/animation starting far out in the universe and progressively moving in--along the way you'll get a great view of the solar system at different scales. For a similar set of slides, visit the Eames Office Powers of Ten.