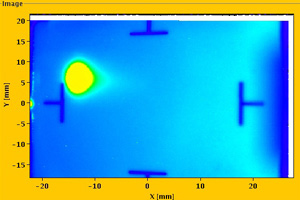 image © CERN; image source; (no larger image available)
This image shows the profile of one of the two colliding beams in the Large Hadron Collider during its startup in September, 2008. When the machine is operational, the beam will be thinner than a human hair. For more information on the "first beam," see CERN press release. To find out how the LHC absorbs the beam energy, visit "Protecting the LHC from itself." And for more about the LHC itself, go to The Large Hadron Collider.
The Standard Model of Particle Physics
Visit The Standard Model of Particle Physics and "Guide to the Large Hadron Collider" for BBC articles on the standard model of particle physics and how the LHC experiments will test it. For more, see Symmetry magazine.