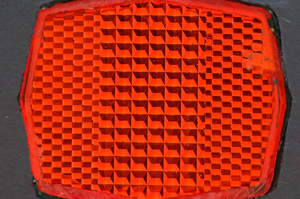 image credit: Ken Cole; larger image
Reflections of the Way Life Used to Be
-- This bicycle reflector is a single piece of cast red plastic containing three sets of corner cubes, each with three flat faces meeting at right angles. We are seeing it from behind, in transmitted light.
-- These cubes reflect light back in the direction it came from, in essentially the same way as the corner mirrors that American and Russian astronauts left on the moon in the 1960s and 1970s (see From Physics Research). To learn more about corner mirrors, visit Reflections of the Way Life Used to Be.
-- For a different use of the corner mirror, see the Museum of Modern Art's Corner Mirror and Coral.
To find out how a corner mirror works, try the Exploratorium activity Corner Reflector. To see how light reflects in a corner mirror, check out National Taiwan Normal University's Multiple Reflection from Two Plane Mirrors applet.