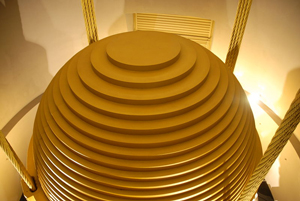 image credit: © Guillaume Paumier / Wikimedia Commons; image source; larger image
This driven pendulum damps oscillations in one of the world's tallest buildings, Taipei 101. To find out how a mass damper works, visit Wikipedia: Tuned Mass Damper. To see how the system responded to the 2008 Sichuan Earthquake, check out this YouTube video.
Visit PhET: Masses & Springs for a realistic virtual mass-and-spring lab. You can change variables and see the effect on the motion of the mass. To find out what happens when the mass is driven by an external force, check out Damped Driven Simple Harmonic Oscillator and Driven Harmonic Oscillator.