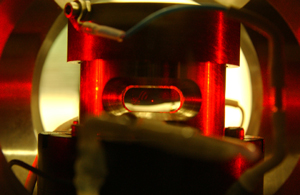 image credit: NASA; image source; larger image
The red dot in the center of the image is a speck of lunar dust, levitated by electric fields--for more on this experiment, see Mesmerized by Moondust. Dust particles on the moon are strongly charged by the ultraviolet light from the sun, and the resulting electrostatic forces levitate these particles well above the moon's surface, forming a lunar atmosphere of dust. Check out Moon Fountains to learn more and to find out how the physics of this effect was anticipated in a science fiction book published in 1956. The same effect explains movement of dust into craters.
Moon dust is a health hazard for astronauts--to learn about this problem, see Don't Breathe the Moondust. Also, check out the BBC article Lunar Dust May Harm Astronauts.