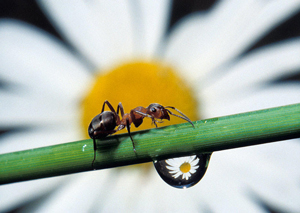 Photo credit: Gisle Noel; photo courtesy of Philip Greenspun; image source
Properties of a Liquid-Drop Variable Lens
Notice that both the ant and the small image of the flower are in focus in this photograph (high-res version)--therefore, both must be at approximately the same distance from the camera lens. Since a drop of water has a small radius of curvature, its focal length is short, only about half a centimeter, so the image is close to the drop and is much smaller than the flower itself.

-- For related activities and information, see Properties of a Liquid-Drop Variable Lens.
-- Build your own water drop lens at Kitchen Science Experiments: Drop Magnifier.
-- For more on images, visit Geometrical Optics from the University of Pennsylvania.
Visit Building A Telescope to find out how to build your own reflecting telescope. You'll need a long and a short focal length lens and some cardboard tubes.