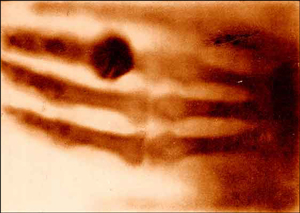 This image is in the public domain. Image source.
Roentgen Discovers X-Rays
This photo (hi-res version) is one of the first x-ray images, made by Wilhelm Roentgen in 1895. It shows the bones in his wife's hand. To learn a lot about the early history of x-rays, see this pdf from Stanford University.
Visit the SolStation site Life on Earth and Elsewhere to learn about the origin and history of life on Earth and the possibility that life might evolve elsewhere in the solar system. To learn more, see the NOVA site How Did Life Begin?.