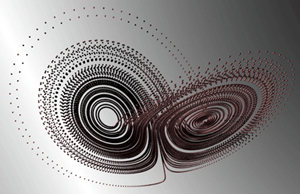 image credit: Paul Bourke, University of Western Australia; larger image
Chaos Theory: A Brief Introduction
This image shows the "Lorentz attractor," a graph that represents the behavior of a simple model of Earth's weather. Weather is just one example of a chaotic system, in which seemingly irregular behavior does follow certain patterns.

For an overview of chaos theory that concisely explains the characteristics of chaotic systems, see Chaos Theory: A Brief Introduction.
Serious study of chaos began with Edward Lorenz's simplified three-equation model of the atmosphere. Visit Chaos and Fractals for a brief overview of chaos theory, including how Lorenz discovered "sensitive dependence on initial conditions", also known as "the butterfly effect." When he discovered this, he knew that long-range weather forecasting would never succeed.

To learn more about Lorenz and also about the chaos of population dynamics, see Chaos Rules, from the American Physical Society outreach website Physics Central.