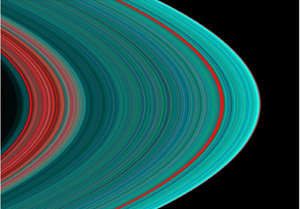 image credit: UVIS, University of Colorado, ESA, and NASA
Saturn's A Ring
This image (hi-res version) shows the region near Saturn's "A" ring, as imaged by NASA's Cassini probe.

See Saturn's Rings for a related feature in Physics Central.

You might also enjoy Cassini-Huygens: Mission to Saturn & Titan, the NASA site for this mission, and Cyclops, the site of the Cassini Imaging Team.

To see NASA's best images of all the planets in the solar system, and learn about the probes that made them, check out Welcome to the Planets.
Visit the California Science Center's hands-on activity archive!