Featured Collection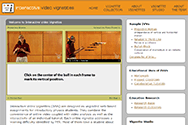 IVV
A selection of online interactive learning activities built around video and video analysis.
Did You Know?
PER-Central has a map of PER Institutions from around the world. You can view them here.
The AAPT ComPADRE Digital Library is a network of free online resource collections supporting faculty, students, and teachers in Physics and Astronomy Education.
Each of our collections contain materials designed for a specific group or course. Browse below to find a collection right for you.
Faculty Resources