Welcome Students!
In this section, find specialized resources for students in Middle School, High School, and College Level sections.
In our Middle School section, you can:
Get advice on coursework which will help prepare you to pursue careers in Physics fields.
Find suggested readings to find out more about the lives of famous Physicists.
Discover resources to help you to explore Physics, at home and in the classroom.
In our High School section, you can:
Get advice on coursework and activities which will help prepare you to pursue careers in Physics fields.
Learn about fun ways to explore science while connecting with other students.
Find information about Federal Student Aid and Physics programs, scholarships, and clubs.
In our College section, you can:
Get advice on how to tailor your undergraduate Physics program to prepare you for specific fields.
Find information about how to build skills and make connections through student organizations and job shadowing.
Discover resources for helping you decide on a graduate school, or finding and landing that perfect job if you are interested in entering the workforce upon graduation.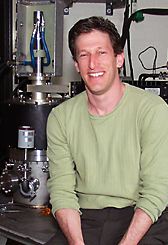 Andrew Post-Zwicker - Director of Science Education
Andrew Post-Zwicker was not sure whether he wanted to study math or engineering at Bard College, in Annandale-on-Hudson, New York. But one of his professors took him under his wing and introduced Andrew to physics. He did well in his physics classes, and moved on to Johns Hopkins University for his graduate work in Plasma, after which he did postdoctoral research at the Oak Ridge National Laboratory in Germany.

But Andrew found that he was having a hard time sitting in front of computers all day, and became frustrated with his field--until he had what he calls the "life changing experience" of taking on a struggling urban high school student. The girl's school system had not been helping her achieve her potential, "She was way behind her peers in terms of what she knew, " says Andrew, "but way ahead in focus, maturity, and ambition." Andrew helped her get into a private school on a scholarship (she proceeded to go on to medical school). This experience ignited his love of teaching--which he often accomplishes through direct involvement of undergraduates and high school students in his plasma research! Andrew's passion for--and dedication to--teaching is clear. "I've got the best job. No one can top my job, " he says.