Welcome Students!
In this section, find specialized resources for students in Middle School, High School, and College Level sections.
In our Middle School section, you can:
Get advice on coursework which will help prepare you to pursue careers in Physics fields.
Find suggested readings to find out more about the lives of famous Physicists.
Discover resources to help you to explore Physics, at home and in the classroom.
In our High School section, you can:
Get advice on coursework and activities which will help prepare you to pursue careers in Physics fields.
Learn about fun ways to explore science while connecting with other students.
Find information about Federal Student Aid and Physics programs, scholarships, and clubs.
In our College section, you can:
Get advice on how to tailor your undergraduate Physics program to prepare you for specific fields.
Find information about how to build skills and make connections through student organizations and job shadowing.
Discover resources for helping you decide on a graduate school, or finding and landing that perfect job if you are interested in entering the workforce upon graduation.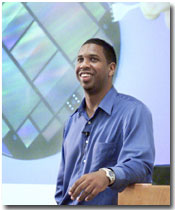 Hakeem Oluseyi - Professor
Hakeem Oluseyi was born in Mississippi and grew up in different ghettos around the south. Hakeem says that he was always interested in sciences, but was first really exposed to them at 11 when he came across some of Einstein's work. Growing up, the culture expected one to fight in order to establish one's worth. This did not interest Hakeem, so he opted for reading inside instead. He was excited about reading Einstein's work "It just knocked my socks off!" he says. "I was like, what?!? Mass increases? Length contracts? Oh, my god!... I did everything I could to get my head around this stuff."

This passion for physics followed him through to high school where he won a prize in a science competition for a program he wrote. The judges encouraged him to become a physicist, but he was hesitant. After he graduated, he spent some time in the military and then attended Tougaloo College in Mississippi, where he was one of two physics majors.

After graduating, Oluseyi was introduced to the research world through a summer program at the University of Georgia, where he experienced a sort of culture shock when compared to the world he grew up in. He did not expect the amount of freedom and trust he was given.

He started attending graduate school at Stanford, which proved to be a challenge for him, requiring him to take extra undergraduate classes to keep up, but Oluseyi had an encouraging adviser, and he left Stanford with a Ph.D.