Welcome Students!
In this section, find specialized resources for students in Middle School, High School, and College Level sections.
In our Middle School section, you can:
Get advice on coursework which will help prepare you to pursue careers in Physics fields.
Find suggested readings to find out more about the lives of famous Physicists.
Discover resources to help you to explore Physics, at home and in the classroom.
In our High School section, you can:
Get advice on coursework and activities which will help prepare you to pursue careers in Physics fields.
Learn about fun ways to explore science while connecting with other students.
Find information about Federal Student Aid and Physics programs, scholarships, and clubs.
In our College section, you can:
Get advice on how to tailor your undergraduate Physics program to prepare you for specific fields.
Find information about how to build skills and make connections through student organizations and job shadowing.
Discover resources for helping you decide on a graduate school, or finding and landing that perfect job if you are interested in entering the workforce upon graduation.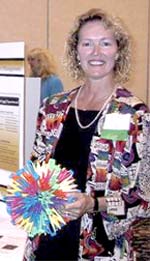 Kimberly Wiefling - Independent Consultant
Kimberly Wiefling is the founder of Wiefling Consulting, LLC, a scrappy global consulting enterprise committed to enabling her clients to achieve results predictably and repeatedly. She has worked with companies of all sizes, including one-person ventures and those in the Fortune 50, and she has helped to launch and grow more than half a dozen startups, a few of which are reaping excellent profits at this very moment.

Kimberly attributes her scrappiness to being raised in Pittsburgh, Pennsylvania and to the sheer luck of genetics--her whole family is seriously scrappy. A physicist by education, she earned a Master's degree in Physics from Case Institute and a Bachelor's in Chemistry and Physics from Wright State University. Kimberly spent a decade at HP in engineering leadership and product development project management roles. She then spent four years in the world of Silicon Valley start-ups before leading one to a glorious defeat during the dotcom bust of 2001 as the VP of Program Management. Vigorously scrappy, she reemerged to launch her own company, consulting worldwide from Tokyo to Armenia, as well as the once-again-vibrant Silicon Valley.