Welcome Students!
In this section, find specialized resources for students in Middle School, High School, and College Level sections.
In our Middle School section, you can:
Get advice on coursework which will help prepare you to pursue careers in Physics fields.
Find suggested readings to find out more about the lives of famous Physicists.
Discover resources to help you to explore Physics, at home and in the classroom.
In our High School section, you can:
Get advice on coursework and activities which will help prepare you to pursue careers in Physics fields.
Learn about fun ways to explore science while connecting with other students.
Find information about Federal Student Aid and Physics programs, scholarships, and clubs.
In our College section, you can:
Get advice on how to tailor your undergraduate Physics program to prepare you for specific fields.
Find information about how to build skills and make connections through student organizations and job shadowing.
Discover resources for helping you decide on a graduate school, or finding and landing that perfect job if you are interested in entering the workforce upon graduation.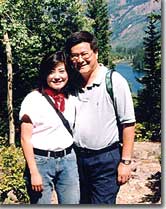 Terence Hwa - Professor
Born in China, Terence first came to the United States in 1979 at the age of 15. After completing his bachelor's degree in three majors at Stanford (where he won the prestgious Apker award for outstanding achievements in Physics by undergrads), Terence went to grad school at MIT to study statistical mechanics and condensed matter Physics. He earned his PhD in 1990, working on pattern formation in complex systems.

Today, Terence continues to teach and do interdisciplinary research on the connection between the pattern description capabilities of theoretical physics, and genomic research. Through such research, Hwa says that physicists face nothing less than resolving the mysteries of life created by billions of years of natural evolution."

Terence has won several awards and grants that he believes have been essential to allowing him to carry on research in a subject matters that until recently "did not belong to any fields and had no official channel of support." Terence said, "The career path I am taking is an unusual one, and these awards, starting with the Apker Award, are crucial in helping me to overcome the many unexpected difficulties associated with pursuing my kind of path."