Welcome Students!
In this section, find specialized resources for students in Middle School, High School, and College Level sections.
In our Middle School section, you can:
Get advice on coursework which will help prepare you to pursue careers in Physics fields.
Find suggested readings to find out more about the lives of famous Physicists.
Discover resources to help you to explore Physics, at home and in the classroom.
In our High School section, you can:
Get advice on coursework and activities which will help prepare you to pursue careers in Physics fields.
Learn about fun ways to explore science while connecting with other students.
Find information about Federal Student Aid and Physics programs, scholarships, and clubs.
In our College section, you can:
Get advice on how to tailor your undergraduate Physics program to prepare you for specific fields.
Find information about how to build skills and make connections through student organizations and job shadowing.
Discover resources for helping you decide on a graduate school, or finding and landing that perfect job if you are interested in entering the workforce upon graduation.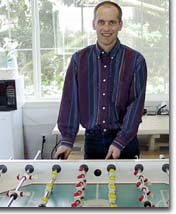 Steve Gass - Inventor and Patent Attorney
Gass grew up on a horse ranch in the countryside of eastern Oregon. He began woodworking at age 4 and never stopped. "I just love to build things, " he said. He was also always interested in how things worked, and this interest led him to study physics. He went to college at Oregon State University, and got a Ph.D. in physics from the University of California at San Diego, studying how proteins fold. As his graduation neared, he realized that he did not want a career in academic research, where he would have to spend much of his time writing grants. "I loved the science, but it didn't seem like a very good lifestyle. So I thought, 'well, what else can I do with my degree in physics?', " he said. He went to law school at the University of California at Berkeley, then became a patent attorney.

As a patent attorney, Gass worked with inventors and companies to --patent their inventions and prevent them from being copied. Of the inventions he helped to patent, his favorite was a screw that doctors used to hold broken bones together. While working as an attorney, Gass continued his woodworking projects, building a 4, 000 square foot workshop behind his house. "When I was a little kid, I liked playing with Legos, " he said. "I just never quit."