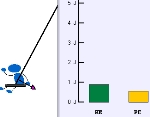 written by Wolfgang Christian, Mario Belloni, and Anne Cox
content provider: Barbara Christian

The EJS Pendulum Energy Model shows a pendulum and associated energy bar charts. Users can change the initial starting point of the pendulum. This model is distributed with a middle-school physical science lesson plan.

The EJS Pendulum Energy model includes two supplemental documents (see below) that include a middle school lesson plan and a the student version of the program.

The Pendulum Energy Model was created using the Easy Java Simulations (EJS) modeling tool. It is distributed as a ready-to-run (compiled) Java archive. Double clicking the ejs_middle_school_teacher_PendulumEnergy.jar file will run the program if Java is installed. The user can modify this simulation if EJS is installed by right-clicking within the plot and selecting "Open Ejs Model" from the pop-up menu item.

Please note that this resource requires at least version 1.5 of Java (JRE).


download 3917kb .jar
Last Modified: July 23, 2013
previous versions

View the supplemental documents attached to this resource (2)

Pendulum Energy Model: Student Version
EJS Pendulum Energy Model: Student Version is a simulation for physical science (middle and high) school students. It is distributed as a ready-to-run…
more...
download 2714kb .jar
Published: June 17, 2009
previous versions

Pendulum Energy Model: Lesson Plan
A pdf file with a teacher lesson plan for use with the Pendulum Energy Model.
download 366kb .pdf
Published: June 17, 2009

View the source code document attached to this resource

Pendulum Energy Source Code
The source code zip archive contains an XML representation of the Pendulum Energy Model. Unzip this archive in your Ejs workspace to compile and run this…
more...
download 1462kb .zip
Published: June 17, 2009
Subjects
Levels
Resource Types
Classical Mechanics

- Work and Energy

= Conservation of Energy

Oscillations & Waves

- Middle School

- High School

- Lower Undergraduate

- Instructional Material

= Interactive Simulation
Intended Users
Formats
Ratings

- Learners

- Educators

- Professional/Practitioners

- application/java
Access Rights:

Free access

License:

This material is released under a GNU General Public License Version 3 license.

Rights Holder:

Wolfgang Christian

PACSs:

01.50.hv
07.05.Tp

Keywords:

energy conservation, harmonic motion, kinetic energy, middle school module, potential energy, swing

Record Cloner:

Metadata instance created June 17, 2009 by Anne Cox

Record Updated:

July 23, 2013 by Matt Mohorn

Last Update
when Cataloged:

June 17, 2009

Other Collections:



AAAS Benchmark Alignments (2008 Version)
4. The Physical Setting
4E. Energy Transformations
6-8: 4E/M1. Whenever energy appears in one place, it must have disappeared from another. Whenever energy is lost from somewhere, it must have gone somewhere else. Sometimes when energy appears to be lost, it actually has been transferred to a system that is so large that the effect of the transferred energy is imperceptible.
6-8: 4E/M4. Energy appears in different forms and can be transformed within a system. Motion energy is associated with the speed of an object. Thermal energy is associated with the temperature of an object. Gravitational energy is associated with the height of an object above a reference point. Elastic energy is associated with the stretching or compressing of an elastic object. Chemical energy is associated with the composition of a substance. Electrical energy is associated with an electric current in a circuit. Light energy is associated with the frequency of electromagnetic waves.
9-12: 4E/H1. Although the various forms of energy appear very different, each can be measured in a way that makes it possible to keep track of how much of one form is converted into another. Whenever the amount of energy in one place diminishes, the amount in other places or forms increases by the same amount.
11. Common Themes
11B. Models
3-5: 11B/E3. A model of something is similar to, but not exactly like, the thing being modeled. Some models are physically similar to what they are representing, but others are not.
3-5: 11B/E4. Models are very useful for communicating ideas about objects, events, and processes. When using a model to communicate about something, it is important to keep in mind how it is different from the thing being modeled.
6-8: 11B/M4. Simulations are often useful in modeling events and processes.
6-8: 11B/M5. The usefulness of a model depends on how closely its behavior matches key aspects of what is being modeled. The only way to determine the usefulness of a model is to compare its behavior to the behavior of the real-world object, event, or process being modeled.
Common Core State Standards for Mathematics Alignments
Standards for Mathematical Practice (K-12)
MP.2 Reason abstractly and quantitatively.
Ratios and Proportional Relationships (6-7)
Analyze proportional relationships and use them to solve real-world and mathematical problems. (7)
7.RP.2.b Identify the constant of proportionality (unit rate) in tables, graphs, equations, diagrams, and verbal descriptions of proportional relationships.
Functions (8)
Use functions to model relationships between quantities. (8)
8.F.5 Describe qualitatively the functional relationship between two quantities by analyzing a graph (e.g., where the function is increasing or decreasing, linear or nonlinear). Sketch a graph that exhibits the qualitative features of a function that has been described verbally.
NSES Content Standards
Con.U:
Unifying Concepts & Processes
K-12: Evidence, Models, Explanation
Con.B:
Physical Science
ComPADRE is beta testing Citation Styles!
Disclaimer
: ComPADRE offers citation styles as a guide only. We cannot offer interpretations about citations as this is an automated procedure. Please refer to the style manuals in the
Citation Source Information
area for clarifications.
This resource and its subdocuments is stored in 27 shared folders.
You must login to access shared folders.
Supplements
Contribute
Related Materials
Similar Materials