Computational Resources for Teaching
The OSP Collection provides curriculum resources that engage students in physics, computation, and computer modeling. Computational physics and computer modeling provide students with new ways to understand, describe, explain, and predict physical phenomena. Browse the OSP simulations or learn more about our tools and curriculum pieces below.
Tracker
The Tracker tool extends traditional video analysis by enabling users to create particle models based on Newton's laws. Because models synchronize with and draw themselves right on videos of real-world objects, students can test models experimentally by direct visual inspection.
Featured Tracker Package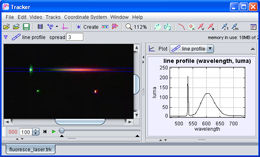 Fluorescence Spectra
The Fluorescence Spectra experiment uses Tracker to explore fluorescence and fluorescent lamps. Students observe the spectra directly, measure brightness versus wavelength in Tracker, and answer qualitative and quantitative questions. The spectra include a fluorescent dye, a mercury lamp and two fluorescent lamps, all with red and green laser spots added for easy calibration.
More...

Curriculum Packages
OSP curriculum packages combine computer simulations with tutorial materials and student worksheets. Packages can be modified to meet the needs of faculty and students
Browse curriculum resources by topic and learn how to customize packages
Featured Curriculum Package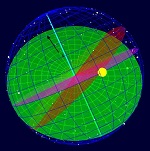 Copernican Revolution
A shared file folder of Astronomy models designed for a course on the Copernican Revolution. In this course students explore the history of astronomy from the Ancient Greeks to Isaac Newton. Astronomical theories are studied in some detail and evaluated based on their success or failure at reproducing astronomical observations. The EJS simulations in this folder allow students to actively engage with the astronomical theories and visualize the apparent motions predicted by each theory.

EJS Modeling
Student modeling, the guided exploration of physical systems and concepts, is a powerful approach to engaged learning. Easy Java Simulations provides the computational tools for students and faculty to explore physics without the need for learning details of java programming.
Featured EJS Model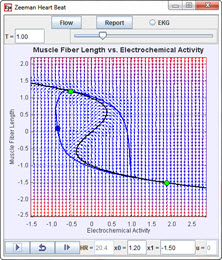 Zeeman Heartbeat Model
The Zeeman Heartbeat Model uses work in Catastrophe Theory to create a simulation of the heartbeat cycle. The heart is represented as a blue circle in phase space and travels from diastole to systole which are represented as the green circles. Cardiac muscle fiber length (x) is represented on the y-axis and electrochemical activity (b) is represented on the x-axis. The model calculates the heart rate (in beats per minute) and a variable called gamma which is intrinsic to the pacemaker.
More...

Programming
Open Source Physics provides extensive resources for computational physics and physics simulations. Included are:
An Eclipse environment for OSP
OSP Source Code Libraries
OSP best practices
Documentation
Tools
OSP provides several general applications for physics teaching, student activities, and curriculum distribution. These are: