Computational Resources for Teaching
The OSP Collection provides curriculum resources that engage students in physics, computation, and computer modeling. Computational physics and computer modeling provide students with new ways to understand, describe, explain, and predict physical phenomena. Browse the OSP simulations or learn more about our tools and curriculum pieces below.
Tracker
The Tracker tool extends traditional video analysis by enabling users to create particle models based on Newton's laws. Because models synchronize with and draw themselves right on videos of real-world objects, students can test models experimentally by direct visual inspection.
Featured Tracker Package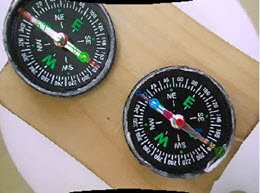 Coupled Compass Oscillations Video Analysis Activity
The Coupled Compass Oscillations Video Analysis Activity explores the behavior of a pair of loosely coupled compass needles in air with weak damping. The needles are far enough apart that the magnetic interaction between their magnetic dipoles is much weaker than their interaction with the Earth's magnetic field. The resulting motion displays beats--when one compass is momentarily at rest, the other oscillates with maximum amplitude.
More...

Curriculum Packages
OSP curriculum packages combine computer simulations with tutorial materials and student worksheets. Packages can be modified to meet the needs of faculty and students
Browse curriculum resources by topic and learn how to customize packages
Featured Curriculum Package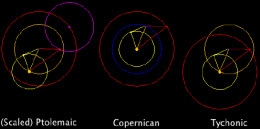 Modeling the History of Astronomy
A shared file folder that contains software and activities to help students learn about the Ptolemaic, Copernican, and Tychonic models of the solar system and use that knowledge to create models of a fictitious solar system from observations of the night sky. The Simulations and Activities subfolder contains computer simulations and activity handouts to guide students through observing the night sky. The Student Projects subfolder contains computer programs that simulate the night sky for 30 fictitious solar systems. These programs serve as the foundation for a series of students projects.

EJS Modeling
Student modeling, the guided exploration of physical systems and concepts, is a powerful approach to engaged learning. Easy Java Simulations provides the computational tools for students and faculty to explore physics without the need for learning details of java programming.
Featured EJS Model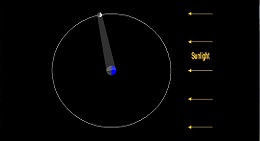 Phases of Moon Model
The EJS Phases of Moon model displays the the appearance of Moon and how it changes depending on the position of Moon relative to Earth and Sun. The main window shows Earth (at the center). By using the Options Menu the Moon View window shows the appearance of Moon as seen from Earth when Moon is in the position shown in the main window.
More...

Programming
Open Source Physics provides extensive resources for computational physics and physics simulations. Included are:
An Eclipse environment for OSP
OSP Source Code Libraries
OSP best practices
Documentation
Tools
OSP provides several general applications for physics teaching, student activities, and curriculum distribution. These are: