Website Detail Page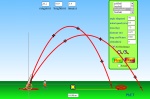 published by the Physics Education Technology Project

To explore particle trajectories, try this simulation of firing various objects out of a cannon. You can find out how the angle, initial speed, mass, and air resistance affect the path of the projectile. This item is part of a larger collection of simulations developed by the Physics Education Technology project (PhET).

Subjects
Levels
Resource Types
Motion, Forces, and Energy

- Applications of Newton's Laws

- Motion in Two Dimensions

- High School

- Lower Undergraduate

- Middle School

- Instructional Material

= Activity
Intended Users
Formats
Ratings

- Learners

- Educators

- application/flash
Additional Information
This resource was a Physics To Go feature from November 16, 2006 until December 1, 2006. View the feature here!
Mirror:
http://phet.colorado.edu/sims/projectile-moti…
Access Rights:
Free access
Restriction:
Additional information is available.
Keywords:
2d motion, acceleration, ballistic motion, gravity, interactive multimedia, kinematics, projectile motion
Record Cloner:
Metadata instance created April 7, 2006 by Caroline Hall

Record Updated:
Sep 20, 2012 by Caroline Hall

Last Update
when Cataloged:
March 3, 2006
Other Collections:


AAAS Benchmark Alignments (2008 Version)
4. The Physical Setting
4F. Motion
6-8: 4F/M3a. An unbalanced force acting on an object changes its speed or direction of motion, or both.
9-12: 4F/H1. The change in motion (direction or speed) of an object is proportional to the applied force and inversely proportional to the mass.
9-12: 4F/H8. Any object maintains a constant speed and direction of motion unless an unbalanced outside force acts on it.
11. Common Themes
11B. Models
6-8: 11B/M1. Models are often used to think about processes that happen too slowly, too quickly, or on too small a scale to observe directly. They are also used for processes that are too vast, too complex, or too dangerous to study.
9-12: 11B/H1a. A mathematical model uses rules and relationships to describe and predict objects and events in the real world.
Common Core State Standards for Mathematics Alignments
Standards for Mathematical Practice (K-12)
MP.2 Reason abstractly and quantitatively.
High School — Algebra (9-12)
Seeing Structure in Expressions (9-12)
A-SSE.1.b Interpret complicated expressions by viewing one or more of their parts as a single entity.
High School — Functions (9-12)
Linear, Quadratic, and Exponential Models? (9-12)
F-LE.2 Construct linear and exponential functions, including arithmetic and geometric sequences, given a graph, a description of a relationship, or two input-output pairs (include reading these from a table).
ComPADRE is beta testing Citation Styles!
Disclaimer
: ComPADRE offers citation styles as a guide only. We cannot offer interpretations about citations as this is an automated procedure. Please refer to the style manuals in the
Citation Source Information
area for clarifications.
Have experience with this material? Login to leave a comment sharing your experience.
Know of a related resource? Login to relate this resource to other material across the web.
Know of a better resource? Suggest it!
See a problem with this material's physics or description? Contact us!