Website Detail Page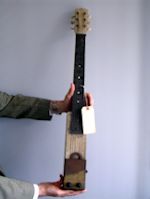 Please be aware that our automated link checking software has listed this item as potentially having a problem.
published by the North Carolina State University Department of Physics

The photo shows a modern electric guitar prototype developed by a physicist at North Carolina State University. Check out this NCSU
webpage
to learn more.
Subjects
Levels
Resource Types
Waves and Pendula

- Instruments

= Stringed Instruments

- Informal Education

- High School

- Lower Undergraduate

- Reference Material


- Audio/Visual

= Image/Image Set
Intended Users
Formats
Ratings

- General Publics

- Learners

- text/html
Access Rights:
Free access
Restriction:
© 2007 NC State University Department of Physics
Has a copyright or other licensing restriction.
Keywords:
acoustics, applications for electrical circuits, waves on a string
Record Creator:
Metadata instance created May 18, 2012 by Bruce Mason

Record Updated:
Feb 24, 2013 by Lyle Barbato

Other Collections:


ComPADRE is beta testing Citation Styles!
Disclaimer
: ComPADRE offers citation styles as a guide only. We cannot offer interpretations about citations as this is an automated procedure. Please refer to the style manuals in the
Citation Source Information
area for clarifications.
Have experience with this material? Login to leave a comment sharing your experience.
Know of a related resource? Login to relate this resource to other material across the web.
Know of a better resource? Suggest it!
See a problem with this material's physics or description? Contact us!