Featured Collection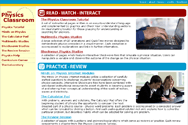 The Physics Classroom
An online physics tutorial written for high school physics students.
Did You Know?
The ComPADRE Portal has a new design. Tell us what you think!
The ComPADRE Digital Library is

Sponsored in part by NSF grants DUE-0226129 and DUE-0532798.
The ComPADRE Digital Library is a network of free online resource collections supporting faculty, students, and teachers in Physics and Astronomy Education.
Each of our collections contain materials designed for a specific community. Browse below to find a collection right for you.